Amazing For A Debut Effort
Second War
by
Triptaka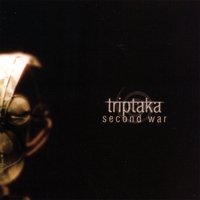 How can I describe this CD? How about a musical onslaught.
Second War
wears you out but leaves you wanting more.
Sonically relentless and darkly foreboding begin to describe the
Triptaka
experience. For a debut release, the band demonstrates uncompromising attitude and vision. It's a given that if you dig on A Perfect Circle or Nine Inch Nails you will certainly love this music. But, it is arguably just as good and two tracks that really stand out in my mind are
"Lost & Leading"
and
"Tamed"
, the latter featuring amazing segue and the 1-2 assault of lead singer Graeme Cornies and guitarist Dave Kelly. This is a seriously massive attack that should be in heavy rotation on every prog rock radio station.
"Suspended"
kicks off the disc at a blistering pace with big, piercing guitar riffs and the rest of the disc never lets up.
As I said, it wears you out but leaves you wanting so much more.
Triptaka is relentless and at the same time addicting, and gets better with each play. This is a fascinating group that belongs at Lollapalooza banging with the bigger bands. Creative and explosive, relevant and precise...............this effort is brutally intense and overwhelmingly explosive. You won't stop listening. In a genre that has become predictable and stagnant, Triptaka injects life and creativity. This disc is a must-have.
Michael Canter -
www.sonicjive.com