"Dustin has the kind of soul that you need to be a real player. When he sings and plays it's not just his voice and hands, it's his soul talking through them, and that makes it a special thing."
~ Ian Moore
Release Date:
26-February-2013
Genre:
Blues / Rock / Southern Rock
Location:
Tulsa, OK
Publisher:
[p][c] Dustin Pittsley Band
Label:
Horton Records
Total Time:
39m 56s
Review Date:
11-April-2013
Review Format:
CD
Bit Rate:
320 kbps
For Fans Of:
Warren Haynes, Derek Trucks, Gov't Mule, Doyle Bramhill, Mike Zito
Songs In Jivewired Radio Rotation:
Already There, I'm At Home, Do It Again
Best Songs:
Never Again, 7 Year Disease, Hold Me & Never Let Me Go, I'm At Home
Best of the Rest:
Do It Again, Old Friend, Already There
Previous Jivewired Review:
New Tulsa Sound 2 Compilation
,
New Tulsa Sound Compilation
Jivewired Digital One Sheet:
http://jivewired.com/dustinpittsley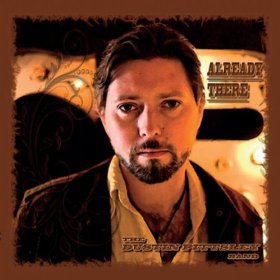 Purchase:
iTunes
|
Amazon
|
Horton Records
Stream:
Artist Website
|
Jivewired.com
Track Listing:
01. Already There 3:39
02. I'm At Home 3:30
03. Old Friend 4:01
04. New Day 4:34
05. Do It Again 4:02
06. 7 Year Disease 3:58
07. Never Again 4:33
08. Otherside 3:03
09. Hold Me & Never Let Me Go 4:07
10. Love Me Or Leave Me 4:29
Review:
The Dustin Pittsley Band exudes a confidence that stems from years of roadwork and real passion steeped in blues-rock history. On their latest album,
Already There
, the band kicks into the songs
Never Again
and
7 Year Disease
with a tough and scorched ferociousness that delivers a blues and funk crossbreed that is blue-collar calloused and spiritually merciless at the same time. That, in a sentence, paints the portrait of a Dustin Pittsley album: no frills rock and blues that sizzles at it's very core, a blues, funk and rock and roll groove that reverently stands tall and broad-shouldered, deeply rooted in the work ethic that defines his upbringing. To see Dustin in a live setting will draw comparisons to Steve Ray Vaughan and Warren Haynes and if that's just a tad too superlative for you, then go see a live show. Dustin is a humble guy and won't compare himself to any of his peers. Trust me, however, when I say Dustin's shows speak much, much louder.
Dustin is an astonishingly great guitar player, and if you were around to experience the early-to-mid 1980s blues explosion, then this album is a perfect get for your collection. He is eclectic and fiery at the same time, a combination that yields what is simply one terrific album. Whether the band is practicing the sweet, soulful restraint of
New Day
or
Otherside
, or at full-throttle, unbridled and bone-crushing blues fervor on
Love Me Or Leave Me
, Pittsley bridges the gap of blues and rock like no other artist in the last decade. The fretwork on
7 Year Disease
is positively scintillating.
And let's not slight Pittsley's vocal abilities. He is way more than adequate with a voice that plays up in most instances, nothing groundbreaking, but certainly on equal par with his peers. The results are genuine and heartfelt, anchored firmly in the greatest traditions of Blues and Southern Rock sensibilities. The music is muscular and warm at the same time, a friendly, welcome roadhouse-steeped kind of sound that plays well to mid-sized venues and festival fairgrounds.
On
Already There
, Dustin has honed and slightly broadened his musical palette in comparison to his earlier works. The sound hasn't changed much, and it hasn't had to. But subtle nuances and a bit of soul-wrenching blues on some of the slower tracks have extended Pittsley's repertoire and show the type of maturity necessary to take his career to the next level. Make no mistake, Pittsley is on the fast track, with bullet points that include a recent national tour, appearances with legendary Buddy Guy and a blistering couple of sets at SXSW last month. This album serves as the bedrock that separates this band from it's local blues legend beginnings to current, national, crossover force.
In full disclaimer, you're probably not apt to give this album a listen if you are not a blues and blues-rock fan, but I implore to you that there is certainly something on this album for anyone who appreciates good, guitar-driven music.
Already There
is a powerful and inspired mix of roots blues and rock with just a hint of contemporary soul and dirty funk to give it just enough appeal for almost any fan of good music. And that's what it's all about, that's what drives guys like Dustin Pittsley to be the best. At the end of the day, is this record something to be proud of? Most certainly. Sure Dustin will skew a little harder at times -- he can, his chops are good and he manages to keep his solos concise without restraint but with just enough muscular fortitude -- but there is a perfect balance and flow through the entire album. The result is a wonderful blues and blues-rock LP.
About Dustin Pittsley:
Dustin Pittsley, based in Tulsa, OK, has gained a buzz in music conversations around Oklahoma and the Midwest for years now. Known as a flame-throwing guitar player since his teens, he has grown into a prolific songwriter and singer, while his guitar prowess has continued to expand and grow in versatility. Singer/songwriter Ian Moore says,
"Dustin has the kind of soul that you need to be a real player. When he sings and plays it's not just his voice and hands, it's his soul talking through them, and that makes it a special thing."
His music stretches across many genres including blues, rock, country, soul, and jazz—much like his predecessors and originators of the Tulsa Sound—and his high-octane live show is not to be missed. Highly recommended for fans of Gov't Mule, The Allman Brothers Band, or Doyle Bramhall.
The group, who is sponsored by Jagermeister, has won the Blues Society of Tulsa's 2012, 2010, 2009, and 2005 Blues Challenge and represented them at the International Blues Challenge in Memphis, TN where in 2010 they were named the "Beale Street Blues Kings".
Dustin released his new studio album, "Already There", on February 26th, 2013. It's available on Horton Records.